Measure gene expression levels or quantify microorganism abundances with our qPCR service
AllGenetics' qPCR service takes advantage of quantitative real-time PCR. This technique is the most widely spread method to measure gene expression levels, as well as detect and estimate the abundance of microorganisms in environmental and clinical samples. qPCR is a highly specific, quick, and cost-effective method. It monitors the fluorescence within a PCR reaction and correlates it to the amount of target DNA synthesised in the sample.
At AllGenetics we can design and test tailored qPCR assays for a great variety of research applications.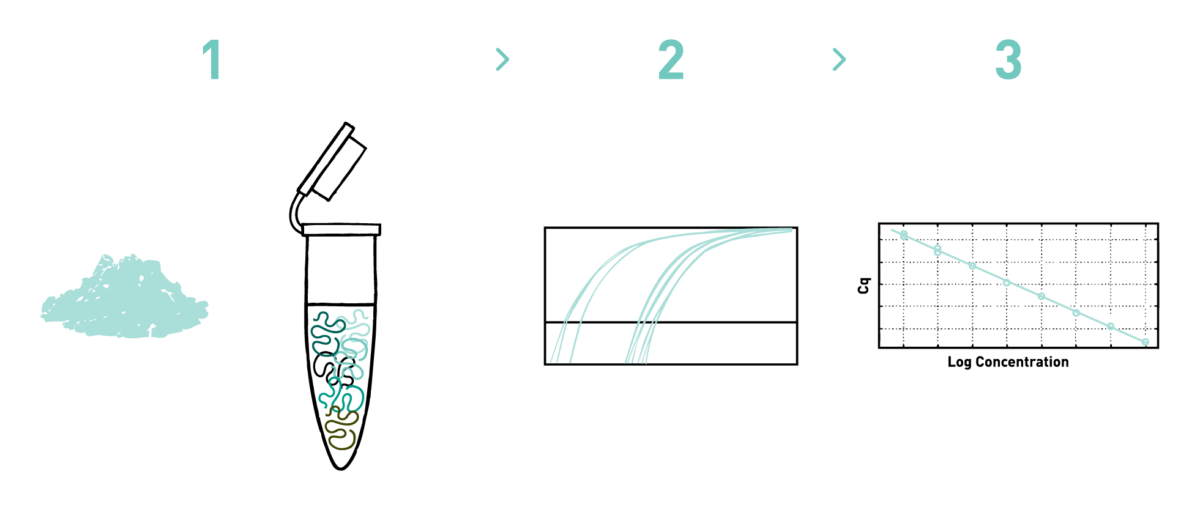 Step 1
We isolate the desired nucleic acids (DNA or RNA) from your samples. We have adapted different DNA and RNA isolation protocols, depending on the starting biological material, as well as cDNA synthesis protocols.
Step 2
We perform qPCR to amplify and quantify target DNA sequences using in-house developed primer pairs and specific fluorescent probes or SYBR Green. A pilot qPCR experiment is carried out beforehand in order to check the specificity and efficiency of the assay to set up the qPCR conditions.
Step 3
We analyse the results of qPCR to estimate the abundance of target DNA in each of the samples analysed in relation to a standard curve (absolute quantification assays) or a panel of reference genes (relative quantification assays).
A report with a summary of the methods followed.
The raw qPCR data, which will be delivered through our server.
The results of the analysis, including:
A table with the estimated abundances or the expression levels of selected target sequences.
A report of assay performance characteristics (melting curve analysis, PCR amplification efficiency, Cq values, etc).
If you require additional analyses, please let us know and we will do our best to meet your needs.
At no additional cost, our project specialists will be available to you after project delivery and during the editorial process of your scientific articles. We offer up to five 60-min sessions per project, depending on the project size.